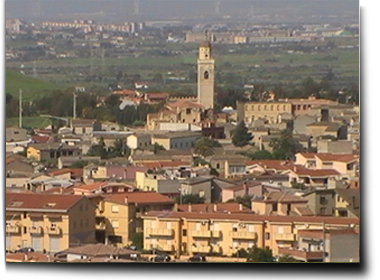 You will find us in via Berlinguer No. 6, Settimo San Pietro, 7 kilometres from Cagliari, a village of about six thousand inhabitants.
Our position allows you to reach some local beaches in a very short time, even using the local transport.
Infact the geological variety and the colour of Sardinia, you'll find on many of the beaches, and sandy coves, all accessible, which allons you to discover scenery of extraodinary beauty.
We recommend:- the long corstrine of the Poetto between Cagliari and Quartu Sant'Elena, dominated by the headland of The Devils Saddle (Sella Del Diavolo) situated near the salt lake of Molentargius, where it's possible to admire the flamingos.
Continuing along the S.S. 125 you'll be fascinated by the besch of Mari Pintau which means the printed sea.
Deriving from colour of the water, which changes colour with the reflexion of the light and sun on the seabed.
Especially, but not only, for those who like to go underwater fishing, or to go diving we recommend Villasimius for the beautiful clear water and the richness of the marine life.
Finally continuig along the scenic road for the Costa Rei, near the town of Muravera, you'll be amazed at Piscina Rei with it's fine white sand and Cala Pira, in the pleasant locality of Castiadas with white sandy beaches, with shades of pink. On the east side of the beach you'll see THE TOWER OF CALA PIRA surrounded by dunes and centuries ond Juniper trees.
on the whole Sardinia is an ideal place for a holiday, you'll be gifted with an atmosphere of emotion and also discover just how easy it is visiting and loving her!!!!!